Replacing your children's shoes
With kids being so active and the rush to get back to school it is easy to forget to check the quality of your child's shoes. Their feet may have grown right to the end of their shoes before replacement, or they may have worn out the integrity in the shoes.
This can be a problem as it can lead to heel, foot or knee pain. Rapid growth spurts are frequent in a growing child which puts additional strain on bones, muscles and ligaments. It is important to replace their shoes sooner rather than later to potentially help reduce their growing pains and remain active and pain free.
Trying to find the right sports shoe to fit your child can be a difficult task as there are so many different brands, types and obviously 'cool colours'. It's very important to not pick shoes based on favourite colours or cost.
Common misconceptions when purchasing children's shoes:
Picking shoes based on brands and colour

Inappropriate sizing

Hand me downs are fine for everyone

Purchasing shoes online without trying them on first

One size is the same across all brands

All shoe models are perfect for all kids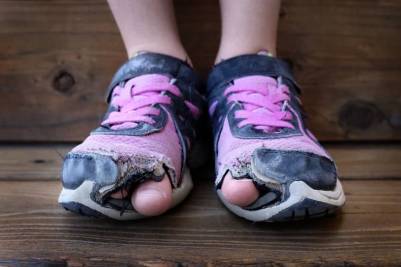 Key Features to Look for:
The shoe hugs the middle of the foot around the arch

Heel should be held firmly in the shoe

At the front of the shoe there should be enough toe room to wiggle their toes and room to allow for a little growth but not too big (it is important to make sure you tap the heel back in the boot and test the length while weight-bearing).

Width, checking how tight the laces needed to be tied to ensure a snug fit and walk or run around the shop a little to check for heel slipping and forefoot shear force.

Flex in the right areas – the sole of the shoe should flex around toe joints at the ball of your foot.

Heel drop – difference in height of the sole in the forefoot of the shoe to the back of the shoe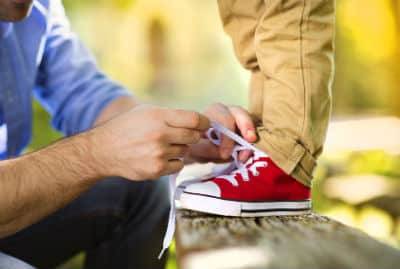 Remember if you already have orthotics to bring them with you when trying on new shoes.
Some further key points to consider:
Use:
What is the primary use of the shoe (eg running shoe or school shoe), running shoes are more flexible in the upper than other types of sporting shoes.
Foot type and function:
Hypermobility and regular injuries makes it very important to select shoes that provide the right support for their foot type to make sure injuries are prevented.
Heel pain and other injuries:
If any pains or injuries that are experienced it is important to see a podiatrist who can assess the cause of the injury and provide an injury management plan.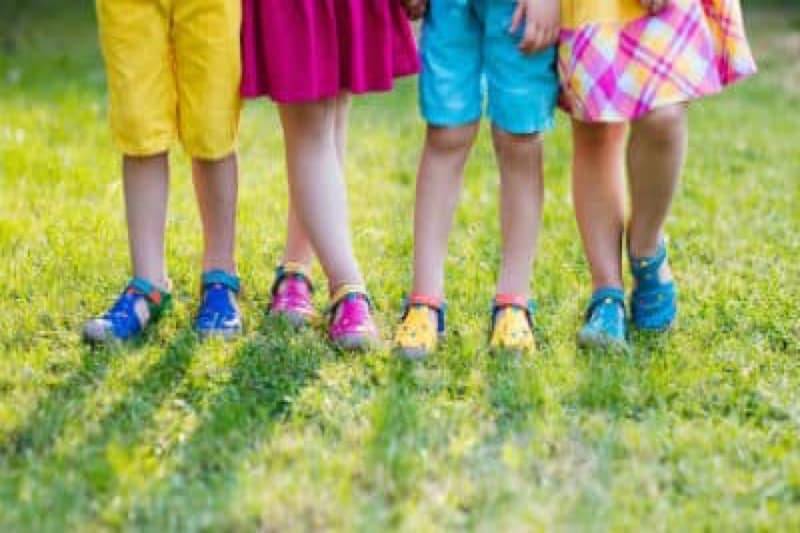 If you think your child may be suffering from foot, heel or knee pain, or want advice on footwear options make an appointment with our Podiatrist at Dynamic Podiatry.